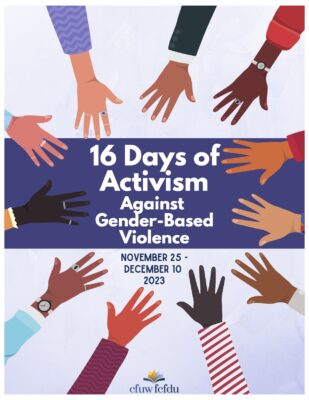 WHAT IS THE 16 DAYS CAMPAIGN?
The 16 Days of Activism against Gender-Based Violence is an annual international campaign that begins on November 25, the International Day for the Elimination of Violence against Women, and ends on December 10, Human Rights Day.
It was started at the inaugural Women's Global Leadership Institute in 1991 and is one of the largest organizing strategies in the prevention and elimination of gender-based violence around the world.
SPECIAL COMMEMORATIVE DATES
25 November: International Day to End Violence against Women
29 November: International Women Human Rights Defenders Day
1 December: World Aids Day
3 December: International Day of Persons with Disabilities
6 December: National Day of Remembrance and Action on Violence against Women
10 December: International Human Rights Day
---
16 Days of Activism Calendar of Events
November 25 – Dec. 10, 2023
---
To create awareness and stress the importance of this Campaign the following will take place throughout the Niagara Peninsula.
Wrapped in Courage Flag Raising
Town of Grimsby (Mon. Nov.6 @ 9am)
Town of NOTL (Mon. Nov. 13 @ 10 am)
Town of Lincoln (Tues. Nov. 14 @ 10am)
Township of West Lincoln (Wed. Nov15 @10am)
City of St. Catharines ( Thurs. Nov. 16 @ 11 am)
Regional Municipality of Niagara (Fri. Nov.24 @ 10am) +both the Wrapped in Courage flag and the MMIWG2S+ flag will be raised
Town of Pelham at MCC (FRi. Nov.24 @ 10am) +Included will be an installation of REDresses, a blessing and drum presentation by Josephine Lavelley Onandaga from 6 Nations.
City of Welland (Fri. Nov. 24@ 10am)
City of Port Colborne (Fri. Nov. 24@ 10am)
Town of Fort Erie (Fri. Nov 24 @ 11:30am)
City of Niagara Falls (Friday Nov. 24 @ 1:30pm)
REDress Displays
CFUW Welland and District will create REDress displays in various locations in Welland, Pelham, Port Colborne and Wainfleet during the 16 Days of Activism from Nov. 25 to Dec. 10. to acknowledge gender-based violence against MMIWG2S+ , remembering those who died and honouring those who survive and their families.
Illuminations
Illumination of:
the Niagara Falls Nov 25 for 15 minutes from 10pm to 10:15.
the Port Colborne Town Hall cupola @ dusk Nov.25
the Welland Main St, Bridge @ dusk Nov.25
Other Events
Thursday, Nov.23 @ 6:30 -7:30 Lincoln Pelham Libraries will host a seminar presented by Gillian's Place entitled Understanding Gender-Based Violence @ Rittenhouse Library, Vineland. Must register on the library website.
Tuesday Dec.5th at 7pm (ON ZOOM) CFUW Welland and District will host a speak on Human Trafficking What We Need to Know by Shelley Walker of Women's Trucking Federation of Canada. Please register at harding.welland@gmail.com
Zonta Clubs of Niagara Falls and St Catharines will celebrate the beginning of the 16 Days of Activism Friday Nov. 24 at 9pm at Table Rock Welcome Centre. Keynote speaker, Lena Cebula, and music by Indigenous-led drum group. We will walk to the Falls which will turn Orange at 10 pm in solidarity. Please join us. Park across the street and receive a parking voucher at the Vigil.
Community members are encouraged to wear PURPLE (Wrapped in Courage colour) and/or ORANGE (UN colour) during November, to help spread awareness.
Gillian's Place has Gillian's Place bandanas for sale and Birchway Niagara has purple scarves for sale . Inquiries can be made at each agency.
We wish to thank the following municipalities across Niagara who have Proclamations on their websites in support of the 16 Days of Activism Against Gender-Based Violence: Fort Erie, Niagara Falls Niagara-on-the-Lake, Pelham, Port Colborne, Welland
Thank you to the following community agencies for their help in raising awareness for this campaign and for what each agency does to support victims of gender-based violence in Niagara. Birchway Niagara (formerly Women's Place of South Niagara), Gillian's Place, Niagara Region Sexual Assault Centre, YWCA Trafficking Prevention, Zonta Clubs of Niagara Falls and St Catharines, CFUW ST Catharines and CFUW Welland and District.