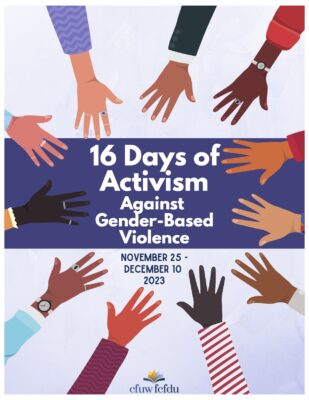 The 16 Days of Activism Against Gender-Based Violence is an annual international campaign, and one of the largest organizing strategies in the prevention and elimination of gender-based violence around the world. It begins on November 25, the International Day for the Elimination of Violence Against Women, and ends on December 10, Human Rights Day.
The 16 Days Information Package includes details about the campaign and information about specific focus areas related to gender-based violence. It also contains 16 facts about gender-based violence, 16 ways to take action against it, and 16 resources to read, listen to, or watch to learn more about the subject. Please read it through and consider what actions you and your club can take in support of the 16 Days campaign.
The 16 Days of Activism against Gender-Based Violence is an annual international campaign that begins on November 25, the International Day for the Elimination of Violence against Women, and ends on December 10, Human Rights Day.
It was started at the inaugural Women's Global Leadership Institute in 1991.
16-Days-of-Activism-Information-Package
Click here to view our CFUW Welland and District 16 Days of Activism Calendar of Events November 25 – Dec. 10, 2023
---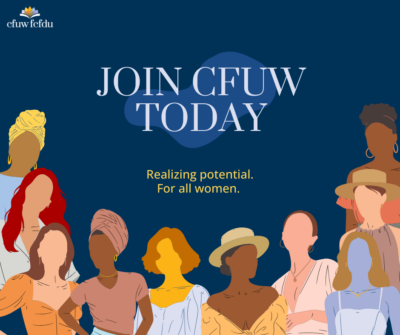 CFUW is a non-partisan, voluntary, self-funded organization with over 100 CFUW Clubs, located in every province across Canada. Since its founding in 1919, CFUW has been working to improve the status of women, and to promote human rights, public education, social justice and peace. It holds special consultative status with the United Nations (ECOSOC) and belongs to the Education Committee of the Canadian Sub-Commission to UNESCO. CFUW contributes approximately $1 million annually to scholarships for women.
CFUW Welland& District was established in 1941 and is affiliated with the Canadian Federation of University Women. We are a diverse group of women who share a common purpose: promotion of education, involvement in public affairs, improvement in human rights and the status of women in Canada and abroad as well as encouraging friendship and co-operation among our members.
Our year runs from September to June. Monthly meetings, with a few exceptions, are held on the third Wednesday of the month at 7 p.m. in the meeting room at Plymouth-Cordage Retirement Residence, 110 First St., Welland. We host a guest speaker at most meetings. This is followed by a social break and then a business meeting. We set aside our June meetings for a special dinner event. Currently we are meeting at Plymouth-Cordage Residence and on Zoom. We will post a notice on this page when we return to in person meetings.
In addition to our meetings, members participate in a variety of interest groups and work together to fund scholarships and community projects.  As well, we also have an active advocacy committee.
New members are always welcome. Visitors are welcome to attend a meeting to hear and see what we are all about. Membership is open to any woman who supports the goals of CFUW: the pursuit of knowledge, promotion of education, improvement of the status of women and girls and active participation in public affairs in the spirit of cooperation and friendship.
For membership information, click here.