2020-2021 EVENT SCHEDULE
Virtual Garden Tour: CFUW St. Catharines
Even the most private gardens in St. Catharines aren't out of bounds this year, thanks to our Club's 100 th Anniversary Fundraising event: a Virtual Garden Tour. Open the gates to inspiration while supporting young women's post-secondary scholarships and agencies that support women and children in St. Catharines, the Garden City, without leaving the comfort of your home.
Seven enthusiastic gardeners will walk you through their vibrant, colourful gardens showcasing special plantings, discussing the history of their green retreats, and offering tips to make your home garden a beautiful space. Enjoy our guest speakers, Paul Zammit and Theresa Forte, well known, local experts who will discuss gardening from their unique perspectives. All the videos will be hosted on our Club's YouTube channel.
Tickets are $10 (plus a small processing fee). A web link to access the YouTube channel will be emailed to you on June 17. You can view the videos as many times as you wish from June 19 – July 11.
𝐔𝐧𝐢𝐭𝐞𝐝 𝐍𝐚𝐭𝐢𝐨𝐧𝐬 𝐎𝐛𝐬𝐞𝐫𝐯𝐚𝐧𝐜𝐞 𝐨𝐟 𝐈𝐧𝐭𝐞𝐫𝐧𝐚𝐭𝐢𝐨𝐧𝐚𝐥 𝐖𝐨𝐦𝐞𝐧'𝐬 𝐃𝐚𝐲 𝟐𝟎𝟐𝟏
On March 8 from 10AM – 12:30PM ET, the United Nations will host an IWD Observance. The event features high-level dignitaries from the UN and governments, as well as other gender equality advocates and champions. Speakers including the Secretary-General of the UN, the Executive Director of UN Women and Eva Longoria will offer reflections on the day's theme and amplify the work of the upcoming Generation Equality Forums. The event will also include musical performances by Angelica Hale, the Pihcintu Chorus, and Broadway singers.
Monday, March 8, 2021 at 7-9pm on Zoom.
WOMEN an Internationally acclaimed 2019 film by Anastasia Mikova and Yann Arthus-Bertrand, will be presented by CFUW Welland and District to celebrate International Women's Day, 

Open to the public, harding.welland@gmail.com to register.
WOMEN gathers the stories of 2000 women from 50 countries to examine the state of womanhood in modern society.
Thursday February 18th, 2021 7pm
CFUW Welland and District has decided to combat the "Stay at Home Doldrums" by reaching out to our members to create presentations to hold on Zoom to entertain and inform the rest of our member. On Thursday February 18th at 7pm, two of our members, one a pharmacist and the other a health researcher plan to present  Covid 19 Vaccines 101 Questions and Discussion
Some of the issues to be addressed include:
The history of vaccines and vaccination.

Herd/Hive immunity and why it is important
Should I get a Covid vaccination?
How long will it last?
Myths and falsehoods.
If anyone is interested in joining this Zoom please register at mckib@mcmaster.ca We felt this particular presentation might be of interest to others as well as our club members.
---
Wed. January 20th, 2021 7pm
CFUW Welland and District will hold our January meeting virtually on Zoom on Wednesday, January 20 at 7 pm. We are pleased to have Oksana
Fisher, CEO of the Niagara Children's Centre as our guest speaker.
All of our members will receive an on-line invitation and if there are any other women interested in joining us as guests please email harding.welland@gmail.ca to receive an invitation to join us on Zoom as well.
We will have a general meeting following our Speaker.
---
16 Days of Activism against Gender-based Violence
The Red Dress Campaign
As part of the 16 Days of Activism for the Elimination of Violence against Women, CFUW Welland and District plan to display red dresses as an art installation to acknowledge and bring tribute to the many Missing and Murdered Indigenous Women (MMIW). The red dresses represent the hundreds-perhaps thousands of North American Indigenous Women and Girls who have been murdered or disappeared during the last 4 decades. Based on the original REDdress movement by founder/creator Jamie Black, a Metis woman from Winnipeg, who wanted the empty dresses floating from hangers in tree branches, to remind us all of the women who should have been wearing them. We want to draw attention to this devastating loss, as another tragic example of Violence against Women that must end.
The displays will begin ​Friday, Dec. 4 in Chippawa Park, near the pond off First Ave. in​ ​Welland​ and on W​ est St near the Clarence St Bridge​, as well as at the ​Gathering Place on King St and St​ ​Brendan/St James Ang.Church on Charlotte St.in Port Colborne
We wish to thank both the cities of Welland and Port Colborne for their support and permission to hold the displays. Appreciation is also extended to the Indigenous community and the Fort Erie Native Friendship Centre for their encouragement and support.
We welcome anyone who wishes to add a red dress to the display to do so, and we encourage the public to view the displays and be reminded of the on-going violence towards women that must stop.
Members of CFUW Welland and District Unit and their friends gathered at bridge 13 in Welland on the evening of November 25 to witness the lighting of the bridge in ORANGE to acknowledge the International Day for the Elimination of Violence against Women.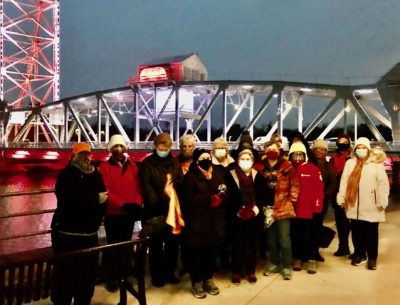 The 16 Days of Activism against Gender-Based Violence (25 November to 10 December 2020)
FUW National​ along with local clubs including ​Welland and District ​are again this year supporting ​'The 16 Days of Activism against Gender-Based Violence'. This campaign begins this week on ​Wednesday, November 25 ​and continues until December 10th.
​International Day for the Elimination of Violence against Women and Girls. The Campaign was started at the inaugural Women's Global Leadership Institute in 1991, as a strategy to call for the prevention and elimination of violence against women and girls.
The UN Secretary-General's UNiTE by 2030 to End Violence against Women campaign is marking the 16 Days of Activism against Gender-based Violence (25 November to 10 December 2020) under the global theme, "Orange the World: Fund, Respond, Prevent, Collect!".
In support, the City of Welland will light the Main St Bridge on Wednesday, November 25th, 2020 in ​ORANGE​.
Please join members of CFUW wearing ​ORANGE ​at 5pm Wednesday, November 25th, 2020 on the EAST side of the bridge to safely acknowledge the beginning of the 16 Days of Activism.
---
Wed. November 18th 7pm
CFUW Welland and District will hold their November meeting via Zoom on Wednesday, November 18th beginning at 7pm.
Seniors on the Move, a local company, will share with us the services they offer to make downsizing and moving easy. Following this presentation we will hold our monthly meeting.
We welcome any women interested in learning more about our group to contact our President at harding.welland@gmail.com to gain access to this month's Zoom meeting.
---