Due to Covid 19 Pandemic this year's Book Sale has been postponed until further notice.
Our 50th annual Book Sale was held on October 5, 2019. Thank you so very much to main convenor Beth Jeffery and all the very dedicated CFUW members who each year act as convenors for the various tables and take on the numerous responsibilities necessary to make such an event a success. And it was a success! We also wish to thank our numerous patrons who donate books every year in excellent condition, helping to ensure the return of many loyal shoppers year after year for the best deals in town.
Congratulations to all for their hard work. You're amazing!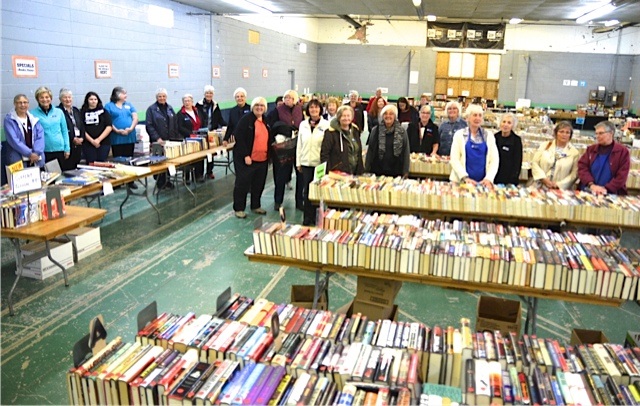 We sincerely thank members of our community for their ongoing support. Our patrons continue every year to supply us with donations of books in excellent condition and variety. Our members volunteer their time during the three days prior to the sale with the major task of sorting and organizing the donations such that our shoppers can enjoy an appealing and well organized venue. Our CFUW members are in full force  on the sale day itself to assist shoppers.  At our sale you will find music, movies, games, puzzles and books sorted into groups such as mystery, romance, novels, science fiction, children's books, classics, pets, crafts and hobbies, health, cookbooks, dictionaries, biography, royalty, politics, Canadiana, self-help, sports and many more.
DONATIONS TO THE SALE:
We sell gently-used items in good condition including books, magazines, games, music (CDs and albums) and DVDs. If you would like to donate to our sale, here is some information that you will find useful.
Donations can be dropped off at Building B on the Wednesday and Thursday prior to the sale day from 9 a.m. to 4 p.m. and on the Friday from 9 a.m. to noon. Please note, we are not able to accept donations of books etc. on the day of the sale. If you are unable to drop off your donations, one of the following members will go to your home for pick-up.
Call:
In Pelham: Gwenn Alves, 905-892-6988 and Martha Cepuch, 905-892-9360
In Port Colborne: Beth Jeffery, 905-835-2291
VOLUNTEERS:
'Many hands make light work' so we are always grateful to volunteers willing to help organize books and conduct the sale. If you are interested in assisting, please call one of our book sale convenors:
Beth Jeffery, 905-835-2291
Nancy Gallacher, 905-892-8338
Sharon Vedova, 905-892-6535
PROCEEDS:
Each year we award eight $700 scholarships to graduating female students from local high schools and $1,000 is set aside for various worthy community projects. The remainder is donated to our registered charity, CFUW Welland & District Charitable Trust, which has educational support as its sole purpose. As of 2017, this charity is managed under the umbrella of the Niagara Community Foundation. In 2008 we partnered with Brock University endowment fund to establish a bursary of approximately $2,000 each year for a mature female student who is returning to school at Brock.
Visit us on Facebook: https://www.facebook.com/cfuwwellandanddistrict/